The Bark Phone and Pinwheel phones both help you manage your child's digital life. Unlike Bark, Pinwheel takes a proactive approach, supporting you and your child in establishing healthy tech habits and reducing conflict.
Pinwheel helps you guide your child to healthy tech habits.
Call History and Text Monitoring
Read your child's conversations as they learn appropriate texting, without asking them to hand over their phone.
Approved Contacts Only
Ensure no one reaches your child without you knowing who they are and approving them first, so no spam or stranger messages.

600+ Vetted Apps
We've done the research for you on which apps might raise concerns and why, making it easy to decide which to add to your child's phone.
GPS location monitoring
Know where your child is and has been at all times with our built-in GPS location tool.
Manage Screentime
Determine which apps and contacts are available on your child's device at what times. Set different modes for school bedtime and weekends.
No Social Media or Web Browser
No need to worry how much time your child spends on social media, or the cyberbullying that happens there. No web browser and closed app loopholes block the unfiltered Internet.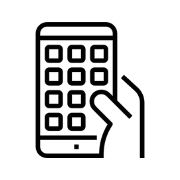 Pinwheel Assistant: Coming Q2 2023
Pinwheel is excited to announce that in partnership with the Georgia Institute of Technology, we have developed artificial intelligence software to auto-detect and notify of violence, bullying, explicit content, hate speech, and self-harm to assist families in raising thriving kids. The product is launching in Q2 2023!
Choose the cellular plan that works for your family