How to get $50 for your old phone

Ship it to Us
Do a factory reset to protect your data, then pack it up and send us a picture of the shipping label showing the tracking number.

Get your $50 coupon
Within 24 hours you'll receive your coupon via email to use on any Pinwheel phone.

Buy a Pinwheel Phone
Choose any model Pinwheel phone and use your coupon. Don't forget accessories like a case and screen protector!
Keep old phones out of the landfill
You've heard horror stories about "recyclers" who just throw stuff away, or send it offshore for disposal. When you send your phone to us, it gets recycled in one of three ways: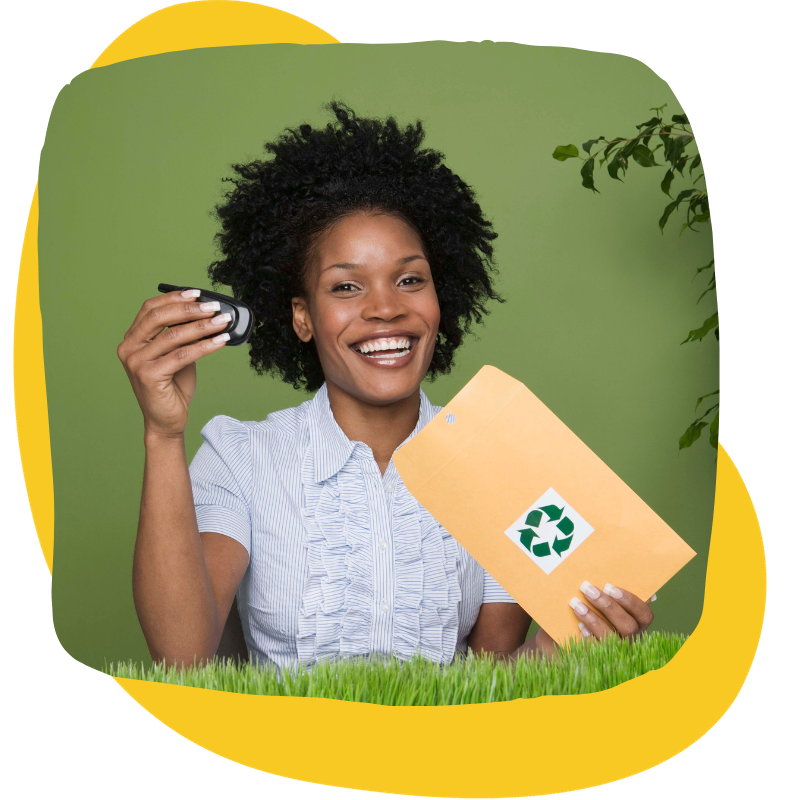 Reuse
If your phone can be refurbished and resold, we will do that. Please factory reset it to wipe your data, or unlock the phone and we'll factory reset it for you.
Reclaim
If your phone is too old or damaged to be resold, our recycling partner will disassemble it and sell the parts to repair or refurbish other phones. This is a critical component to responsible electronics recycling.
Refine
The pieces that are left are shredded and smelted through a metals refining process that recovers precious metals and rare earth elements, reducing the need to mine these materials from the earth.
Terms and Conditions
This offer is valid for customers who purchase a phone from Pinwheel from October 16, 2023 through December 31, 2023.
To redeem this offer, customers must send an Eligible Phone to 1023 Springdale Rd Building 13 Suite E, Austin, TX 78721 and include their name, email address and an indication that the phone is being submitted for recycling. Eligible phones are working cellular phones in at least fair condition in the sole discretion of Pinwheel.
Prior to shipping an Eligible Phone, a customer may submit Evidence of Shipping an Eligible Phone to receive a coupon faster. Acceptable Evidence includes a photograph of the phone being shipped, along with a shipping label showing the tracking number and Pinwheel's shipping address. Evidence may be submitted via the online form at https://form.typeform.com/to/Yq2txTe0, or by emailing support@pinwheel.com. In addition to Evidence, customer must provide their name, email address and indication that the phone is being submitted for recycling.
Within 24 hours of receiving customer's Evidence of shipping, Pinwheel will email a coupon for $50 off any Pinwheel phone or Pack to the email address provided. The coupon may be redeemed only once and is not transferrable.
This offer is limited to one per customer and may not be combined with other promotions, discounts, or offers. If the customer returns the Pinwheel phone for a refund, the customer will be refunded for only the amount paid and not the value of the coupon.
Pinwheel reserves the right to request additional information or documentation to validate the Evidence. If any fraudulent activity or misrepresentation is suspected, Pinwheel reserves the right to reject the request.
Pinwheel reserves the right to modify or terminate this offer at any time without prior notice. In the event of modification or termination, Pinwheel will honor requests submitted prior to the modification or termination date. By participating in this offer, customers agree to release and hold harmless Pinwheel, its affiliates, employees, and agents from any and all liabilities, losses, claims, or damages arising out of or in connection with the offer, including but not limited to reimbursement requests and the use or inability to use the new phone. These terms and conditions shall be governed by and construed in accordance with the laws of Texas. Any disputes arising out of or in connection with this offer shall be subject to the exclusive jurisdiction of the courts of Texas. By participating in this offer, customers indicate their acceptance and agreement to these terms and conditions.