Pinwheel vs. Gabb
The phone that grows with your child
Pinwheel is a quality smartphone that enables responsible and healthy phone usage with modes managed by parents for kids everyday life.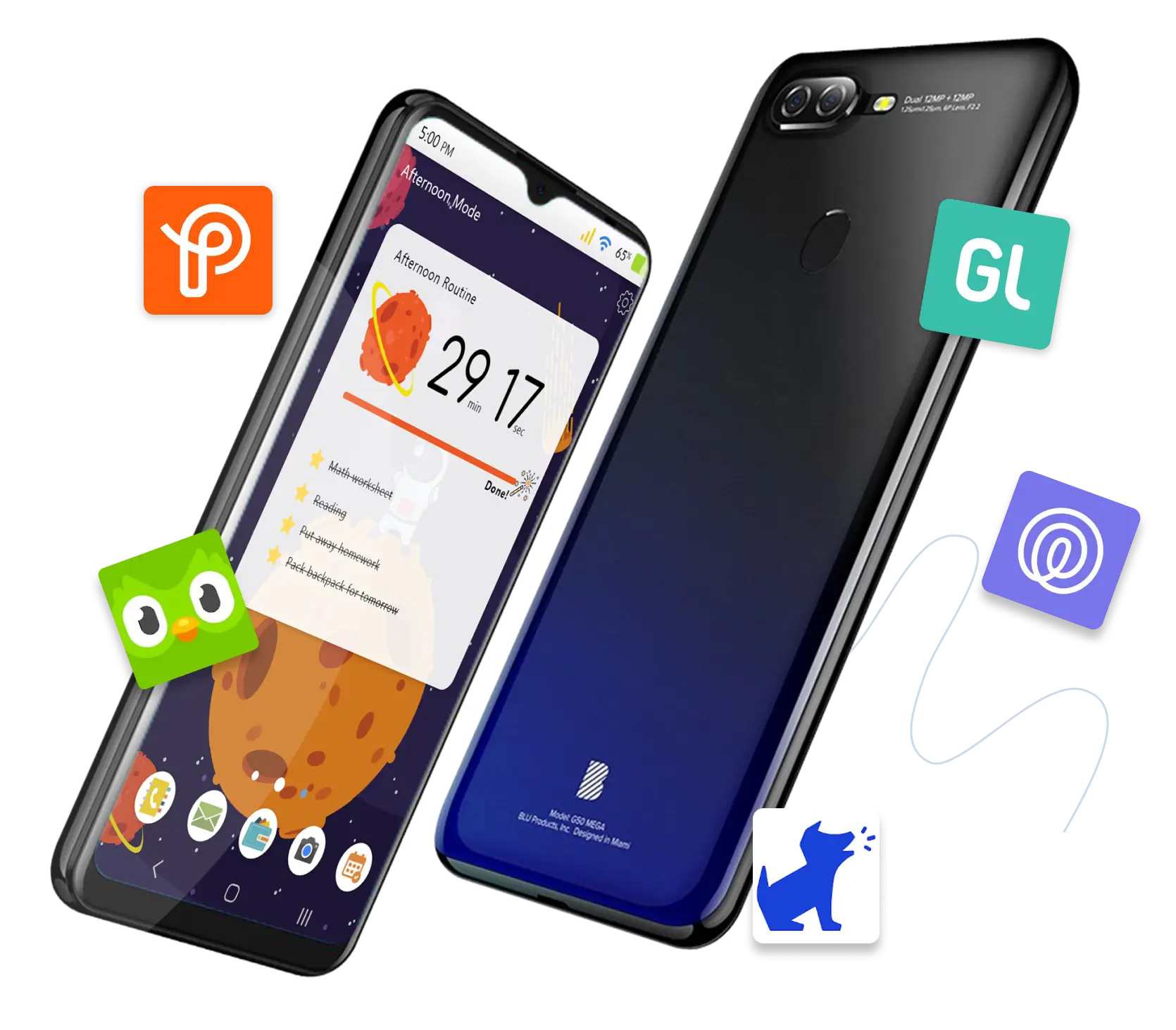 Where Pinwheel and Gabb agree
All the features you need plus more with Pinwheel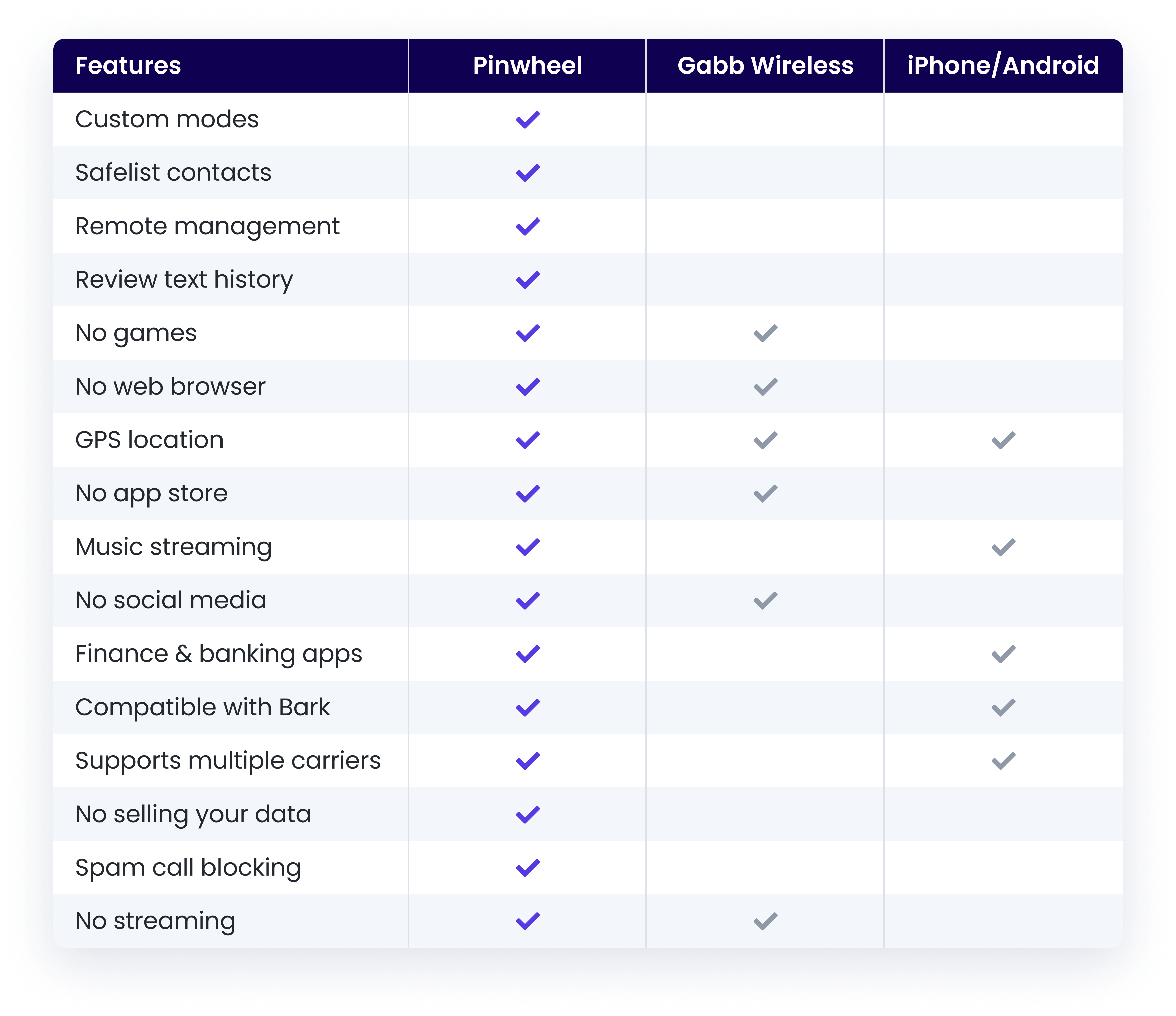 More flexibility

on Pinwheel with features your child will love
Contact Safelisting on Pinwheel vs. Gabb
On a Pinwheel
It's Safelist-Only. Nobody can call or text the phone who isn't on the Safelist of approved contacts managed through our Caregiver Portal
It's Mode-Modified. Most parents limit the phone to emergency contacts at school and at night, but enable friends, family, coaches, or neighbors during other modes
On a Gabb
Gabb does not prevent your child from contacting strangers or spam calls or texts

With Gabb, your child could end up with a recycled phone number that reviews spam calls or texts from strangers daily
Mode Switching on Pinwheel vs. Gabb
On a Pinwheel
Pinwheel allows Caregivers to schedule when certain parts of the device can be used. Modes like "school mode," "everything mode," and "family time mode" change every app, contact, and routine on the phone to match the rhythms of life. Oh, and if a child sneaks the phone to bed it's fine because "night mode" turns it into a brick. With Gabb, your child can call and text all night.
On a Gabb
The only mode on the phone is full access to all 14 apps that you see. You can't turn off calls and texts during school, change it to an "emergency contacts only" device, or turn on just the piano practice apps. Pinwheel allows Caregivers to teach their kids boundaries by showing what "focus time" or "school time" should look like when they have a device
Healthy Apps on Pinwheel vs. Gabb
On a Pinwheel
We curated the entire app store with our therapist council to select the best no-ad "tool not a toy" options. You choose when to enable healthy tech. These non-addictive apps help kids as they grow, and can be slowly dripped out to kids through turning them on and setting limits on app usage. Scroll down for a link to our healthy apps list.

There's

no app store on the Pinwheel phone

because parents have an app boutique in the portal.
On a Gabb
There are no choices. You can't turn apps off at certain times of day. You can't disable the radio. You can't turn off texting for awhile. There is no parent dashboard. Certainly you can avoid the hassle of configuring, but you can't choose anything. The 14 apps are what you get. All the time. Gabb can't update those apps after you have the phone.
Monitoring Communication on Pinwheel vs. Gabb
On a Pinwheel
View your child's entire text and call history on Pinwheel's Caregiver Portal without having to take your child's phone away to do so. Children can't delete texts on Pinwheel - their text messages can be seen in the Caregiver Portal even if they try to delete them from the device.
Pinwheel partners with Bark to give a discount on Bark's text and web monitoring service. Get notified about questionable content on your child's phone if you feel reading their texts is too invasive.


On a Gabb
With Gabb, your child could easily delete text and call history before you are able to take their phone to see their phone's history. (yes you would have to take their phone - Gabb does not offer calling and texting history!)

Gabb does not allow services like Bark which allow parents to remotely monitor their child's communication

Why parents are choosing Pinwheel over Gabb
"To me, as a parent, the key difference is this: Pinwheel has built a unique os where the phone can be modified and updated based on your growing child, their daily schedule, and the cream-of-the-crop best apps in the app boutique. Gabb phones can only run their standard configuration of 14(?) apps. Gabb phones block useful apps that parents use and trust, yet they don't block outside callers."
– Sara W.
Graduate with Pinwheel
With Pinwheel you can graduate your kids from one level of responsibility to the next based on their competency in different digital literacy skills. Start with a device that has talk and text only, then easily add more functionality through the Pinwheel Caregiver App—without having to replace hardware.
With Pinwheel, you are free to choose your cellular provider

APP CRITERIA
Apps curated by our therapist council
Creators not consumers
Mindless cons umption isn't on the Pinwheel phone. That's why there aren't pure entertainment and gaming apps, like Netflix or MarioKart.
Non Addictive
Pinwheel apps are not built on the Vegas Effect, dripping dopamine and variable rewards to attract and fill an attention void.
Human Connection First
Safe, face to face, genuine social experiences release hormones like oxytocin that boost our connection, mood and sense of wellbeing.
Connected, but not to "Social Media"
Communication and photo sharing is restricted to only approved contacts from our safelist.
Tech as a Tool, not a Relationship
Genuinely helpful tools that make technology serve us, while maintaining our role as protagonists in our own lives.
Caregivers are Final Gatekeepers
Caregivers want to protect their children and they want their children to have the skills necessary to be successful in a tech world.
Healthy and Safe Tech - No Ads
No app store, no ads, and no browser. Pinwheel has apps that continue connection with those in the child's life and allows for fun and creative ways to share.
Technically Feasible
Apps that seem healthy from other platforms may not be on Pinwheel. We carefully curate apps with our therapist professional to ensure quality a safety in order to align with the Pinwheel brand promise.
Frequently asked questions about Pinwheel vs. Gabb
Does Pinwheel have unlimited texting and calling like Gabb?
Gabb Wireless offers unlimited call and text for $19.99 a month, but you can only get cell service through them.
Pinwheel allows parents to add the phone to whatever plan they want, making it possible to put a Pinwheel on your family plan or on an affordable prepaid plan of your choice. You can easily put Pinwheel on a plan that has unlimited call and text.
Does Pinwheel block social media?
Yes. Pinwheel has no open web browsing, social media, 100 therapist-backed apps, and advanced parental controls. More apps can be added to grow with the child.
When should I choose Pinwheel?
When you want to teach kids how technology is a helpful tool in their life, while avoiding all the "bad" stuff on phones. That can be as early as your child learning to read, or as late as your child going to their first summer camp. It's up to you. Pinwheel meets you and your child at the stage you choose to teach them tech.
Considering switching from Gabb to Pinwheel? Let us help!
Easily port your Gabb phone number to your selected cellular carrier after purchasing Pinwheel. Our friendly customer care team is here to walk you through the steps of getting your Pinwheel set up. Have questions? Use our live chat found in the bottom right corner of your screen, or text us at (888) 903-7977.
No ad-driven apps • No social media • No games • No browser
Stay up-to-date with the latest info from our therapists, technologists, and experts in the community!