A wellness-packed smartphone for kids
Quality smartphones that enable responsible and healthy usage with modes managed by parents for everyday kids' life.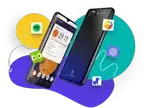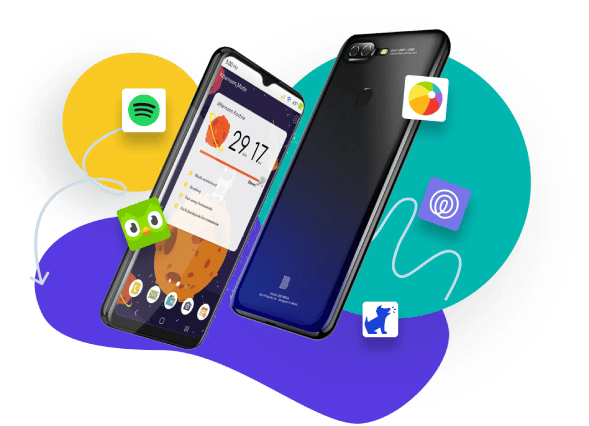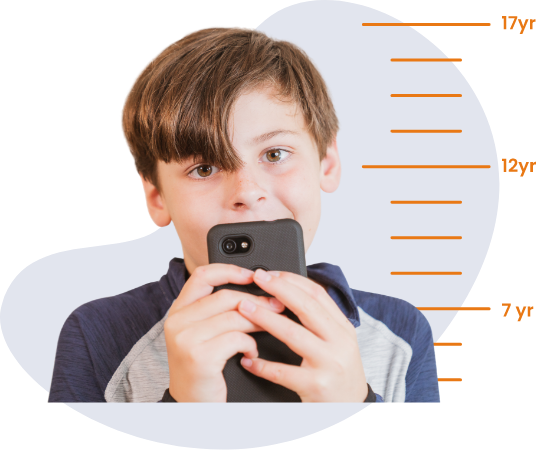 The phone that grows up with your child
Graduate your kids from one level of responsibility to the next based on their competency in different digital literacy skills. Start with a device that has talk and text only, then easily add more functionality through the Pinwheel Caregiver App—without having to replace hardware.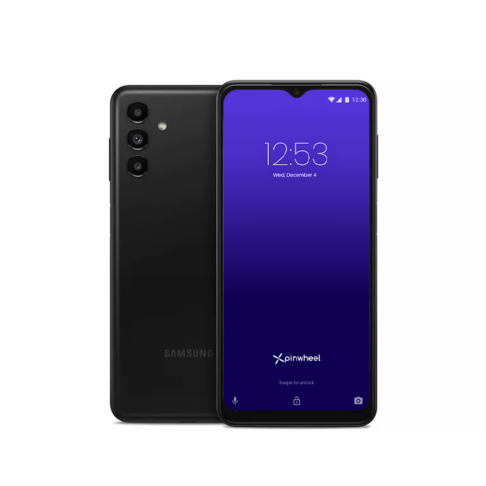 Real Solutions
Lasts for years, grows up with the child, includes apps and Pinwheel OS upgrades over age and stage development
Peace of Mind
No workarounds possible, safe safelist, and smart defaults
Constructive Not Destructive
Confidently teach a kid the life skill of using a phone well
Still a Smartphone
Yes, it has bluetooth, works on wifi, and makes/receives calls, governed by Pinwheel OS.
Pinwheel works with major carriers


Your kid should be safe to use their Pinwheel phone, unsupervised
Kids are better served by having a few apps that truly serve them, and parents can make requests for new apps.

The existing apps you'll find on Pinwheel will always reflect this mindset: quality over quantity. That said, our selection of apps does grow consistently and we do look forward to the day when there are kid-safe apps available for every interest and need your kids have.
APP CRITERIA
Apps curated by our therapist council
Creators not consumers
Mindless consumption isn't on the Pinwheel phone. That's why there aren't pure entertainment and gaming apps, like Netflix or MarioKart.
Non-Addictive
Pinwheel apps are not built on the Vegas Effect, dripping dopamine and variable rewards to attract and fill an attention void.
Human Connection First
Safe, face-to-face, genuine social experiences release hormones like oxytocin that boost our connection, mood and sense of wellbeing.
Connected, but not to "Social Media"
Communication and photo sharing is restricted to only approved contacts from our safelist.
Tech as a Tool, not a Relationship
Genuinely helpful tools that make technology serve us, while maintaining our role as protagonists in our own lives.
Caregivers are Final Gatekeepers
Caregivers want to protect their children and they want their children to have the skills necessary to be successful in a tech world.
Healthy and Safe Tech - No Ads
No app store, no ads, and no browser. Pinwheel has apps that continue connection with those in the child's life and allows for fun and creative ways to share.
Technically Feasible
Apps that seem healthy from other platforms may not be on Pinwheel. We carefully curate apps with our therapist professionals to ensure quality and safety in order to align with the Pinwheel brand promise.
How do we choose apps?
Our therapists and child-development specialists defined clear criteria for safe and healthy apps.

In a nutshell, they advise that apps that are designed to cause addiction, disconnection from real life, or to give access to the internet and social media should be carefully supervised and monitored and limited by parents. So those apps don't belong on a Pinwheel, which goes with them everywhere.
How do I request an app?
If you would like to submit a specific app, or suggest a type of app, for inclusion, please check our app request list in the Caregiver Portal to see if it has already been evaluated. If it has not, there is an app request form on that page.
Can my kid have access to other apps?
Of course they can! Your kids can use any app you deem suitable for them. Some apps just require they use a different device to access them. Pinwheel is the device they can keep with them everywhere they go, safely. And Pinwheel makes it so you don't have to think too hard about evaluating the choices within the Pinwheel ecosystem. We vet the apps for safety and wellness, so you can spend less energy on scrutinizing and worrying.
Can my favorite app get removed?
Pinwheel sometimes has to remove apps when new workarounds or holes are introduced by their designers. The reason to get a Pinwheel is its modes, safelist, and curation of apps, but not for a particular one! If you absolutely, positively must have a certain app, you probably need a more permissive device.
No ad-driven apps • No social media • No games • No browser