Caregiver Portal and Device Set Up


Thanks for joining Pinwheel
We're excited to be part of your family's journey on a healthy relationship with technology.
Setup Steps
🎯 Tip Use a computer for initial setup process.
Set up your Caregiver Portal Account
Note: The sign-up process will ask you for billing information. If you purchased a prepaid subscription along with your device, your Pinwheel should have arrived with a card containing your personalized Prepaid Subscription Coupon code. This code will make sure you are properly credited for your purchase. If you did not receive one or you misplaced it, please contact Customer Care for assistance at 888.903.7977
Connect Cellular Service to the Phone
Choose any compatible cellular plan. Follow your carrier's instructions for getting an activated nano SIM card to insert into your Pinwheel.
If you purchased a starter SIM kit or prepaid cellular plan, you should have received that along with your Pinwheel shipment. Follow the instructions on the included card for activating that SIM.
Insert the activated nano-sized SIM card into the Pinwheel. Push the ejector tool into the tiny hole on the side of the phone to eject the tray, and place your SIM card in SIM Slot 1, as indicated in the images below.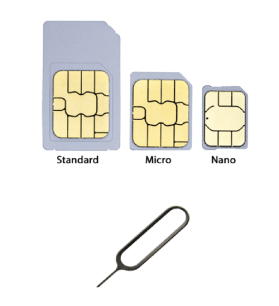 Log into your child's Pinwheel with

their

credentials that you created in step one.

Log into WiFi on the phone: swipe down from the top of the device. Tap the WiFi icon. Choose your wifi network and enter its password.

Tap the Pinwheel Settings app icon on

the phone and select "Always Run Pinwheel"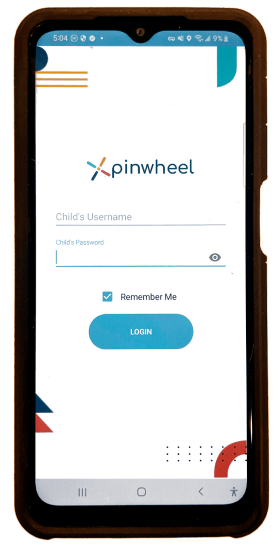 Your child's Pinwheel is ready to go!
When you're ready to explore more Pinwheel settings and customizations, come back to this page and continue from here!
General Phone-Parenting Tip
Start small and limited, and grow together over time.
It's better to add features and apps later than to have to take away freedoms or add restrictions.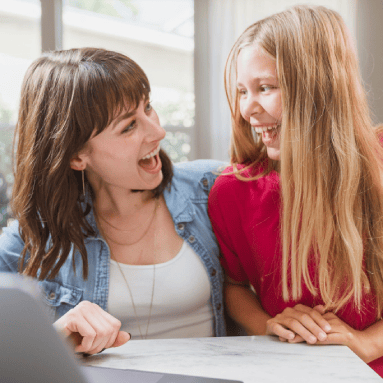 Customization : Section 1 of 4
APPS
Did you know? Most apps in the world have hidden access to the web, adult content, social media, and other elements that may not suitable for your kid. Pinwheel investigates apps thoroughly. We block the loopholes we can block, and we label all our 600+ apps with information about factors that may affect your decision about when and if to allow a particular app.
If there are other factors you wish we would identify or other apps you wish you had in our library, please share with us your thoughts. We welcome your input!
Here's how to add more apps to your child's Pinwheel:
Browse or search through the app categories and listings.

Click on apps to view Pinwheel's specific guidance and ratings to help you decide if it's a good choice for your child.
Toggle an app on to let it appear on your child's Pinwheel.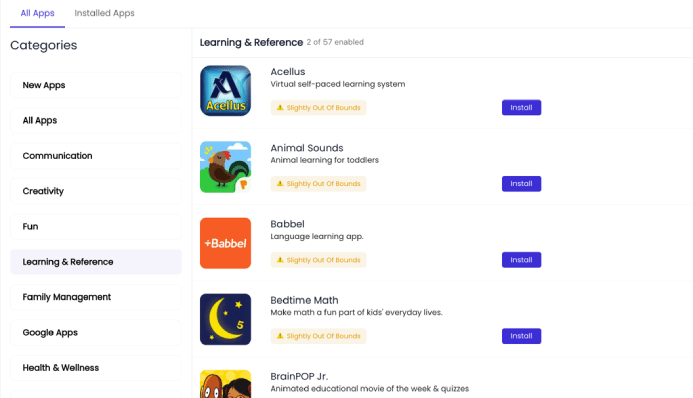 TIPS
Green

✅ Pinwheel Approved

apps are usually good starter apps!
Click on "manage" after installing an app to use scheduling. Scheduling allows you to limit when an app is available.
Customization : Section 2 of 4
CONTACTS
Generally, the best practice for a child new to having a personal communication tool is to begin with you managing their contacts, and limiting them only to people you trust with your child.
Click + to add a contact

Groups can be created to schedule when contacts are available (i.e. School, Friends, Team, etc.)
Image texting is optional for each contact
Emergency Contacts are always available!

Select the Safelist mode

The default, Caregiver-Managed Safelist, is usually the best starting setting. Your child can only call and text with contacts you approve, and you can limit the times of day each contact is available.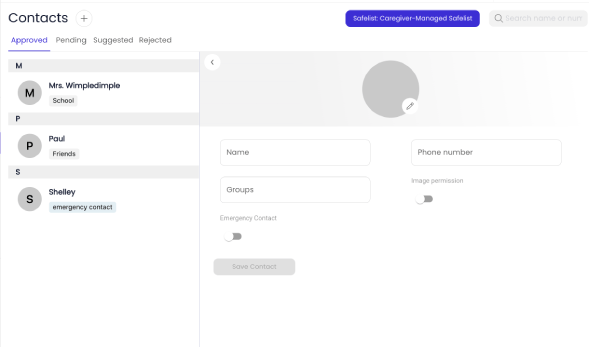 Customization : Section 3 of 4
SCHEDULE

Scheduling lets you allow different things on your child's phone at different times.

Ideally, you want to set it up so that they are always free to choose from whatever is currently on the phone. At the very least, you can use it to automatically limit the phone functions at night to protect their healthy sleep.


Terms to know:
Each calendar date has a "daily schedule."
Each daily schedule is a timeline of "modes."
A "mode" is a set of apps, contacts, and routines.
Edit
Daily Schedules
Use the

Create Schedule

button to build a daily schedule from scratch, or edit an existing day (i.e. Open Day)
Click on an existing Mode on the timeline (i.e. Everything Mode) to choose when it should begin and end.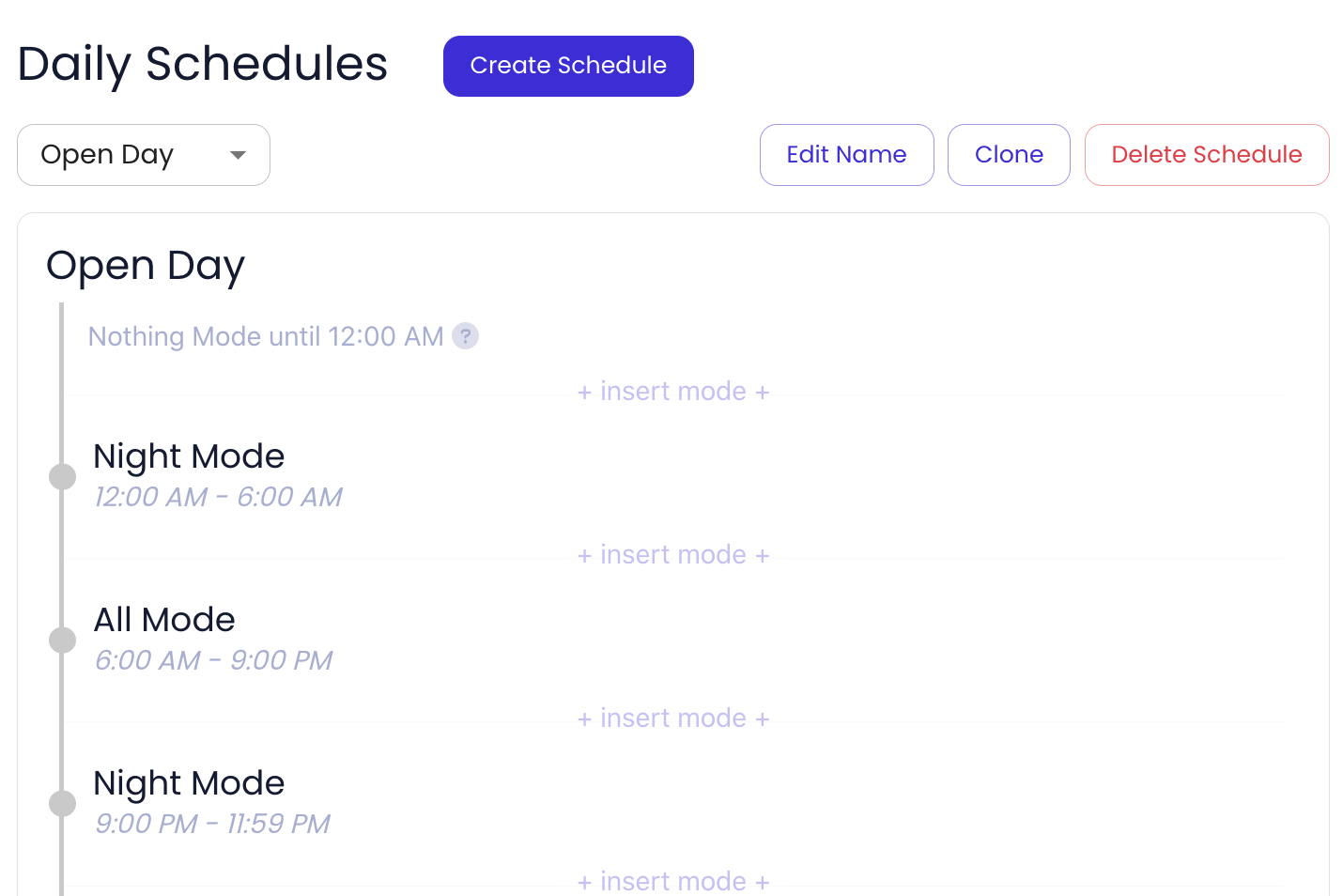 Define
Modes

Modes include apps, contacts, and routines, all enabled or disabled as a group.

Use the

Create Mode

button to build a mode from scratch, or edit an existing mode
Select the apps and contacts your child can access in that Mode

We'll review Routines next, so leave it empty for now.

Return to the Daily Schedules section to insert Modes into a timeline.
Assign Daily Schedules to Calendar Dates
In the calendar section, click the drop-down to apply a different saved schedule to that date; repeat as needed.

Customization : Section 4 of 4
ROUTINES
Routines show up as a checklist on your child's Pinwheel during specific Modes or times of day. They can be super useful for teaching children responsibility and independence without you having to remind them as much. They see a confetti shower when they complete a checklist!
Click

Add Routine

or click an existing Routine to edit
Enter checklist items
Click Save
Return to

Schedule -> Edit Modes

to insert the routine checklists into a mode.
When that Mode is used in a Daily Schedule, the routine will display on your child's phone (when they have the widget on a homescreen).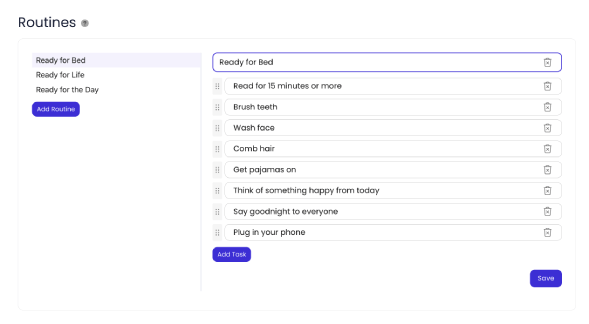 Other sections in Caregiver Portal
The following sections don't need any setup. This information is to help you know what you're seeing in the Caregiver Portal and to get to know the possibilities of Pinwheel!
Phone History
Text History lets you see all the text messages sent and received from every contact, even if they've been deleted on the device.
Call History provides a record of the inbound and outbound calls of the phone, including the time spent on the call.
Image Texting

can be enabled by clicking the toggle in the top right corner of the Phone History page or on each contact card.
Dashboard Overview
The "Schedule override" switches: Temporary Lockdown and Temporary Allow All

allow you to change the state of the phone quickly.

Location map

shows the current location, updating every few minutes when connected via Wi-Fi or cell service.

History

shows prior locations.

Device Panel shows the device's WiFi connection, battery life, the Pinwheel ID (which Customer Care will ask for, if you contact them for help), storage, and the device locator.

If anything isn't working as expected or you have questions, please reach out to Customer Care. We're happy to help!
Daily Hours
7 am to 9 pm Central Time
Live Chat
Tap on the Support icon in the bottom right corner of this page
Text or call
(888) 903-7977

Email
support@pinwheel.com